The following is an abbreviated summary/review of all the apps we're aware of that are commonly used for FABMs, particularly sympto-thermal methods. Feel free to contact us if we missed one, or if a detail may need to be updated.
Compiled by Katie Pryjmak, Nicola Suzanna, Leslie Rewis, Antonela Vuljan
Check out this poll of which apps are the most popular in our community (Kindara & Read Your Body by FAR make up the vast majority).
App Name: Kindara

No longer recommended

– *USE AT YOUR OWN RISK* – the company was sold and the new owners appear to have abandoned all support for Kindara. As of March 2022, the app still works well enough but there is no guarantee for how long. Group member reports indicate that customer service is completely unresponsive.


 

 

 

 

 

 

 

 

 

 

 

 

 

 

 

 

 

 

 

 

 
Available on: Android, IOS, Web
Cost: Free for 45 days then $10 per year
CM and BBT: Both can be adequately tracked
Manual Chart Marking / Interpretation Available: No manual interpretation available, and some modes do show "safe" day interpretations. The app follows Sensiplan rules.
Misc notable features: Syncs with Tempdrop. Fahrenheit temperatures will be displayed oddly because the app is designed for Celsius. Here is an awesome quick start guide for information on using the app.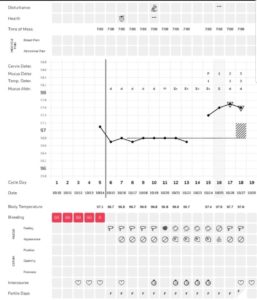 Available on: IOS and Android
Cost: The app is free to use for the first three cycles (afterwards 4.49 $/month or 46.99 $/year).
CM and Temp tracking features: Can be adequately tracked
Manual chart marking / interpretation available: No manual interpretation available. The app marks according to Sensiplan rules.
Misc notable features: The chart is very hard to find. You have to click "Report" in order to see a chart.
* NOT RECOMMENDED *