Tara White trained through SymptoPro (bbt, sensation, mucus, and cervix is optional). I love to work with couples trying to conceive all the way through the postpartum phase. I am also a birth Doula so I offer comprehensive fertility and pregnancy support to couples near Raleigh, NC. I also teach SymptoPro classes online. I am a Christian and am happy to work with clients from all religious and non-religious backgrounds. You can learn more at www.flagshipfertility.com.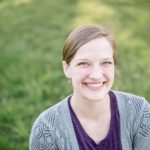 Rebecca Menning is a SymptoPro instructor. Both secular and religious friendly. My NFP course is secular, some of my other offerings (teen cycle education) are more religious in nature. I teach both online and in person in Appleton, Wisconsin. I have protocols for TTA, TTC, postpartum, premenopause, irregular cycles, etc. Learn more at www.wellspringfertility.com.
Johnna Wilford is a the founder and CEO of Risa Fertility, a woman's health company focused on making fertility information more accessible to women earlier in life. A certified fertility awareness educator in the SymptoPro method, she teaches women to get in touch with their bodies, take control of their health, and feel confident through the sympto-thermal method. She lives in Lexington, KY but provides 1:1 instruction in person and online. Find out more at www.risafertility.com.